From Bank to Battlefield
Gallery
This selection of photographs from the Reserve Bank of Australia's archives documents aspects of the building of the Bank's head office, and the Bank's involvement in raising funds through the sale of War Loan Bonds, and then Peace Loan Bonds after the war's conclusion. During this period, the Bank had a role as the government printer and had an official photographer who documented scenes in the nation's financial life.
---
Establishing the Bank
Upon becoming the Bank's Governor in 1912, Denison Miller decided that Sydney, the largest city in the Commonwealth, should be the site of the head office. A site on the corner of Pitt Street and Moore Street (now Martin Place) was purchased for £93,000 by the Commonwealth Government on 23 October 1912.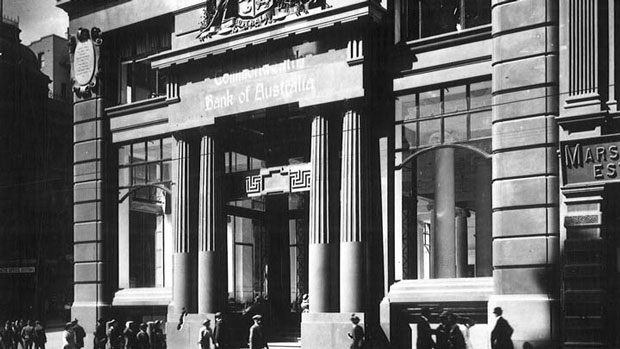 Funding the War Effort
Early in 1915, the British Government began to feel the financial pressure of the war and indicated to the Australian Government that it would need to finance its own share of the war effort. The Government decided to raise loans from the public, and the Commonwealth Bank was entrusted with the task of managing the operation on behalf of the Commonwealth Government.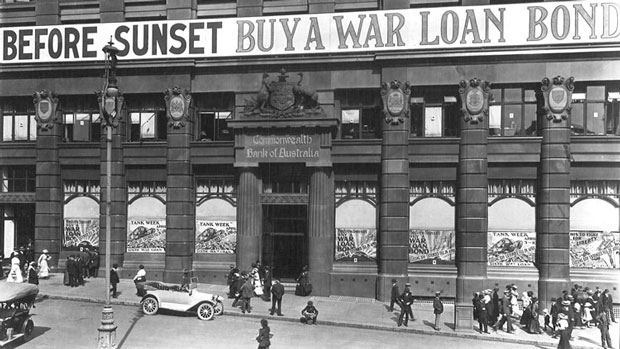 Establishing Peace
Representatives of Britain and France signed the Armistice with Germany on 11 November 1918, ending World War I. Some 170,000 Australians suffered from injuries and illness, and the Repatriation Department was formed by the Australian Government to manage assistance, pensions and training for veterans and war widows. The Bank was again engaged to manage the raising of funds through a series of three campaigns.