From Bank to Battlefield
A Battle of Another Kind
Just as the First World War was ending, Australians had another battle on their hands – the Spanish flu pandemic. The 1918 flu pandemic was an unusually severe and deadly influenza pandemic that spread across the world from June 1917 to December 1920, killing between 50 and 100 million people. Commonwealth Banks staff member EJ Bray survived the war in Europe, only to be sent home on board the transport Boonah, on which an outbreak of the disease was discovered as the voyage progressed. He survived, but not without being placed on the 'Danger' list and enduring three months' convalescence.
In Sydney, the Minister for Public Health wrote to the Governor about the possibility of disinfecting notes before reissuing them. His suggestion was to expose the used notes to saturated steam under pressure. At that time, note issue for Australia was under the control of the Commonwealth Treasury. The Governor forwarded the suggestion there.
The Bank did, however, take some special steps as a result of the pandemic. From 22 April to 19 May 1919, it closed at midday. As the Governor advised, this was because his depleted staff had been working for some time at high pressure: '…it was felt that, in order that their power of resistance to the epidemic might not be unduly lowered, it was necessary that the strain should be relaxed'.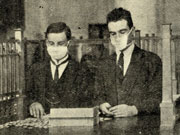 The Governor also insisted that his staff wear masks. Reporting on this, Bank Notes, the Commonwealth Bank's staff journal, noted: 'The following day many large city firms, Government institutions and private citizens, followed our lead by adopting the mask, and Mr Denison Miller was complimented on more than one occasion for his quick action and splendid example.'