From Bank to Battlefield
Australia's Central Bank and the First World War
The First World War saw the emergence of central banking in Australia. These functions were originally performed by a part of the Commonwealth Bank of Australia. In 1960 that part became the Reserve Bank. In the centenary years of the First World War, the Reserve Bank honours those Bank staff who enlisted in the 'war to end all wars' and those who helped found a national institution.
Featured Content
Germany's Spring Offensive
March-May 1918
The German Spring Offensive occurred between March and May 1918. In an attempt to break the Allied lines before the arrival of the Americans, Germany launched three major attacks in Northern France and Belgium. A number of Commonwealth Bank staff were involved in repelling these attacks. They included Lieutenant Ronald Henderson from the Bank's Wagga Wagga branch, who lost his life protecting those under his command. Tragically, his younger brother Hugh was also killed in France a week earlier. Read details »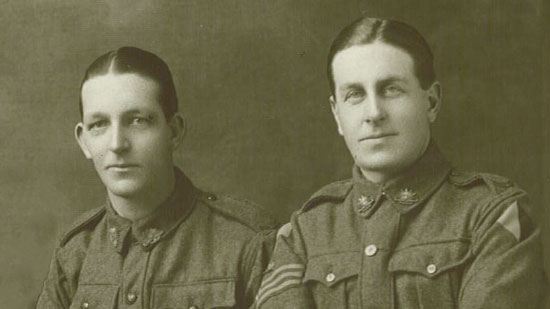 Percy W Bostock and Reginald C O Atkinson were among the Bank staff who fought in the German Spring Offensive.