Born in Yass in 1889 and educated at the Goulburn district school, Roy Harrison was employed at the Commonwealth Bank's Head Office in Sydney. Although he had been at the Bank for only six months when he enlisted, he was described on his Bank staff card as a 'first-class man, particularly reliable and competent in his role as an examiner with the Savings Bank Department'. He dropped rank to Second Lieutenant to join the 2nd Australian Infantry Battalion, having risen to the rank of Lieutenant in his previous military service with the Scottish Rifle and Woollahra Infantry Regiments from 1908 to 1914.
On 25 April 1915 he landed at Gallipoli and was the only original officer from the 2nd Battalion to stay for the whole of the campaign. Following the evacuation, he was promoted to Major. Roy wrote regularly to his fiancée, Emily Ellis, during the war and his last letter to her a few days before he, along with 5,532 other Australian soldiers were either killed, wounded or captured in a single night at Fromelles in France, was particularly poignant: 'By the time this reaches you, the result will be known to you through the paper so failing any bad news, you may take it that all is well.' Although previous correspondence to Emily from the heat of battle at Gallipoli did not have such a stoic tone, he appears to have an almost ethereal knowledge of what his fate in France would be, writing:
Four days later, Roy was reported as missing. He was eventually listed as being killed in action, although his body was never found during the war. In 1921 the remains of an officer were discovered in a field in France and exhumed by the Imperial War Graves Commission. Within the pocket of the officer's uniform was a small silver cigarette case bearing the inscription, To Lieut. Harrison from Jeff & Sum 16/9/1914.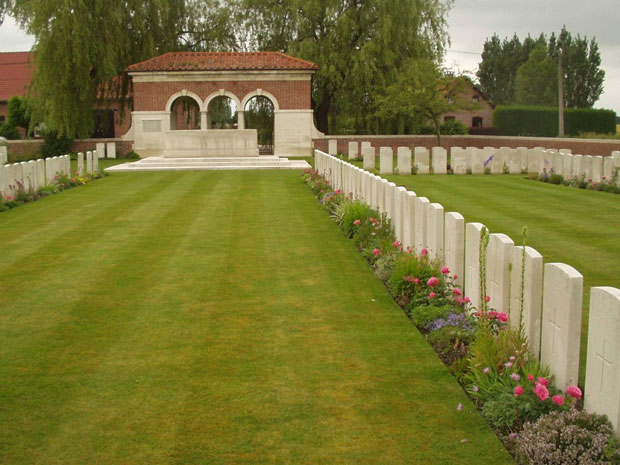 Cemetery: Rue-Petillon Military Cemetery, Fleurbaix, France
Grave Reference: I.D. 20.
Source: Commonwealth War Graves Commission
Roy Harrison's name is located at panel 159 in the Commemorative Area at the Australian War Memorial (as indicated by the poppy on the plan).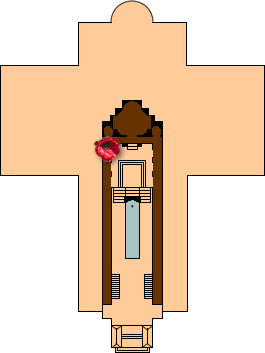 Source: Australian War Memorial
To obtain a Certificate with the Casualty Details go to Commonwealth War Graves Commission.