Elizabeth Ellen Murrell
Born at Waterloo, Sydney in 1880, Elizabeth Ellen Murrell was the daughter of Charles and Mary Ann of 'Wonda', Victoria Rd, Gladesville. Elizabeth was a formidable woman. A trained nurse, she spent her early years working at the Home for the Incurables at Ryde (which later became the Royal Rehab Centre). In 1916, she was appointed Matron of Denistone House at Eastwood.
Her career at Denistone House was cut short by World War I. In 1917, aged 37, Nurse Murrell decided to follow in the footsteps of her brother Henry (who was at Gallipoli) and her sister Emmeline, who had joined the Australian Army Nursing Service1 in 1916. Elizabeth and Emmeline were among 3 000 or so Australian civilian nurses who volunteered for active service during the Great War. These brave women worked in hospitals, on hospital ships and trains and in casualty clearing stations closer to the front line. Serving in locations from Britain to India, many of them were decorated for their bravery – by the time Elizabeth came home she had earned a British War Medal and a Victory Medal.
While Emmeline was sent to Bombay to tend wounded British soldiers and Turkish prisoners of war, Elizabeth went to serve in Salonika, Greece. There she mainly cared for patients who were suffering from dysentery, malaria and black water fever.
Between them, the two sisters worked in seven army hospitals, enduring bleak conditions to care for the sick and injured. Undaunted, Elizabeth, Emmeline and their nursing colleagues did all they could, persevering with primitive facilities through freezing winters and mosquito-ridden summers.
But the environment ultimately took its toll and many, including both of the Murrells, were eventually discharged with debilitating illnesses.
After the war Elizabeth became a nurse for the Commonwealth Bank. Announcing her appointment in June 1919, the staff journal (Bank Notes) reported, 'Anything having for its object the interests of the staff is always assured of the hearty support of the Governor. The latest innovation at Head Office is the installation of Sister EE Murrell (late of the AIF) in charge of the surgery. In a large staff, such as we have, temporary illnesses must necessarily be of frequent occurrence. Immediate treatment will often afford instant relief and in most cases assure a quick and effective recovery. Although the lady members of the staff are supplying the greater number of "cases" we understand that many of the sterner sex have not been above paying a surreptitious visit.'
Within months of her appointment, Sister Murrell introduced midday exercise sessions for interested 'lady members of staff' and an after-hours physical culture class. 'Needless to say,' Bank Notes proclaimed, 'a chic costume is a necessary adjunct to this class.'
Nurse Murrell quickly became an integral part of Head Office, an article from the November 1919 issue of Bank Notes reveals: 'In two rooms full of sunshine glistening white with the gleam of polished nickel and plate glass, conveying the hospital ward touch, Sister Murrell sits, white coiffed and white gowned, alert and ready to squelch the many maladies that beset the path of the toiling Bank clerk ... Sister says she finds us as "cases" a very healthy uninteresting lot from a professional standpoint; and rightly so, she says. With the splendid building we are in, and the healthy conditions generally, how could it be otherwise? And then Sister gets a reminiscent look in her eyes, the shadow of a sigh escapes her as she remembers fine lives "gone West" and from a sentence or two, you learn that men in hospital huts in frozen Salonika did not exactly live in the lap of luxury. You leave refreshed, and quite grateful that your lot has been cast in a place so pleasant as the Head Office of the Commonwealth Bank of Australia. One suspects Sister of being a charming raconteur, but those suspicions are never confirmed, as malingering is taboo ...'
Nurse Murrell's reputation and experience in the war were  held in high regard by Bank staff at all levels. Even the Governor, Denison Miller, knew the story of this extraordinary woman. Delivering a speech in January 1920, he noted, ' ... we have another soldier with us tonight, Sister Murrell ... [who] came on to our staff to do special work, and we are pleased to have her with us.'
Comments on Nurse Murrell's staff card from the 1920s describe her as a 'capable, efficient nurse' who 'continues to give good results in her special sphere. She was also recognised for being conscientious and having 'good control over the girls'.
Elizabeth Murrell died on 6 November 1970.
1The Australian Army Nursing Service (AANS) was formed in July 1903 as part of the Australian Army Medical Corps.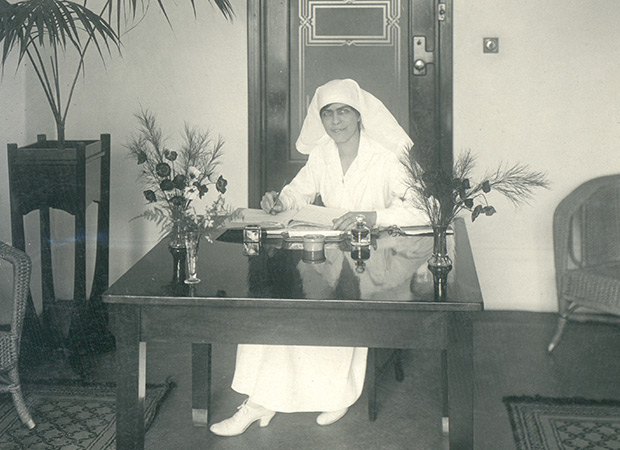 Portrait of Nurse Elizabeth Murrell, 1919