From Bank to Battlefield
Captain Francis Claud Lloyd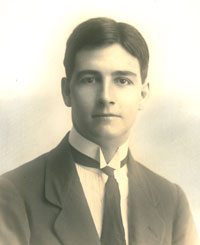 Francis Claud Lloyd was born in Roma, Queensland, and worked as a clerk at the Commonwealth Bank in Brisbane. He was 22 years old when he enlisted in the 26th Infantry Battalion of the Australian Imperial Force (AIF) on 29 April 1915. Lloyd stayed with the 26th Battalion throughout his service and was at Gallipoli, then in France and Belgium, fighting in many of the major battles in which the AIF was involved between 1916 and 1918.
While holding the position of adjutant,* Lloyd rose through the ranks from Sergeant to Captain and had a distinguished record of service. He was awarded the Distinguished Conduct Medal in September 1916 for his service during the attacks at Pozières ridge. Despite being wounded in both legs and in the head, he remained on duty organising the men into the correct formation and seeing his wave safely off before receiving medical attention.
The following year, in March 1917, Lloyd also received the Military Cross for the 'tactical ability, skill and dash' he showed during the attack on Malt Trench, north of Warlencourt, France, in which he not only captured enemy trenches but also repelled the enemy counterattack. Lloyd was recognised once more in February 1918 when he was mentioned in despatches and also received a personal letter from General Birdwood congratulating him for the awards that he had received.
Wounded twice more after the attack on Pozières ridge – the second time in March 1917 in action near Lagnicourt in northern France – he once again remained on duty despite his injuries. The third time Lloyd was wounded was during his Battalion's last action on 3 October 1918. The Battalion was part of the operation to breach the Beaurevoir Line, the third and final line of the Hindenburg defences. Lloyd suffered severe gunshot wounds to the neck, abdomen and left thigh and was invalided back to England where he spent the next few months recovering.
Lloyd was discharged from service on 25 November 1919. He returned to Australia and resumed his post at the Commonwealth Bank, remaining in banking throughout his career.
* An adjutant is a staff officer in charge of the organisation, administration and discipline of a battalion or regiment.
WWI Service Summary
29 April 1915, enlisted in 26th Infantry Battalion, Australian Imperial Forces
24 May 1915, embarked HMAT Ascanius A11, Brisbane
2 September 1916, awarded Distinguished Conduct Medal
19 November 1916, wounded in action near Flers, remained on duty
29 March 1917, wounded in action near Lagnicourt, remained on duty
31 March 1917, awarded Military Cross
27 February 1918, mentioned in despatches
3 October 1918, wounded in action near Grandcourt (GSW neck, abdomen, left thigh, severe)
25 November 1919, discharged from service
Rank
Captain
Service Number
221
Age at enlistment
22 years
Role at Bank
Clerk
Brisbane Branch is proud of the record of one of its members at the front – CAPTAIN CLAUD LLOYD – who is at present doing duty in France as adjutant of the 26th Battalion. Three wound stripes, a D.C.M., and Military Cross are to his credit, and the following personal letter from General Birdwood is one that Claud Lloyd should ever be proud of:–
"Dear Lloyd, – This is a line to congratulate you most heartily upon the award to you of the Military Cross, which you have so well deserved for your good work in the attack on Malt Trench on the night of the 1st March. I know with what skill and determination you wiped out the opposition in the enemy trenches, and, immediately on gaining your objective, how successfully you arranged the disposition of your posts in front of the position, thus enabling you to repel an enemy counter-attack with heavy loss. Thank you so much for this, and wishing you all good fortune in the future.
Yours sincerely, (Sgd.) W.R. Birdwood"
Source: Bank Notes magazine – December 1918, page 6
General Sir William Birdwood
General Birdwood (1865–1951) was born in Bombay and educated in England. He began his military service in India in 1885 and was steadily promoted, becoming a senior officer in Britain's Indian Army. When the First World War began, Birdwood was placed in command of the Australian and New Zealand Army Corps, commanding them throughout the Gallipoli campaign.
Birdwood, or 'Birdie', promoted the abbreviation 'Anzac' as the new name for the Australian position at Gallipoli and for the men who served there. Often described as the 'soul of the Anzacs' he impressed and earned the respect of the men by staying close to the frontlines, walking through the trenches and chatting with soldiers, as well as by swimming daily off the beach in spite of Turkish shelling.
After the evacuation from Gallipoli, Birdwood accompanied the 1st Anzac Corps to France in early 1916 and in 1917 was given command of the newly formed Australian Corps, a position he held until May 1918 when it was passed to Lieutenant General Sir John Monash. Birdwood retained overall administrative command of the Australian Imperial Force throughout the war with the support of almost all senior Australian officers.
In 1920 Birdwood and his wife embarked on a highly successful tour of Australia and New Zealand. He then returned to India where he was given command of the Indian Army in 1925, before retiring from military service five years later. Birdwood died in 1951 and was buried in Twickenham, England with full military honours.
Additional information from the Australian Dictionary of Biography (ADB).
Please email us if you are a relative or have further information that you would like to share.