From Bank to Battlefield
Leslie George Fussell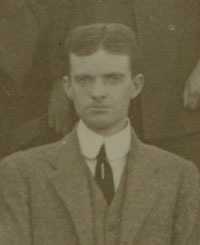 Born in Ballarat in 1883, Leslie Fussell was living in Sydney with his wife Ruby and employed at the Commonwealth Bank's Sydney Office when he enlisted on 7 May 1915. His previous military experience in the Melbourne Senior Cadet Battalion and the Victorian Rifles had earned him a commission as a Lieutenant, a position which he retained when he joined the 17th Infantry Battalion in 1915. Only 5 days after enlisting, Leslie boarded HMAT Themistocles headed for the Gallipoli Peninsula.
After a brief period of training in Egypt, the 17th Battalion arrived at Gallipoli in time to participate in the last major assault of the Gallipoli Campaign, the Battle of Hill 60. The following months were spent in a defensive capacity, mainly around Quinn's Post which was one of the most contested posts along the entire ANZAC front. By the time of the evacuation in December 1915, Leslie had proven himself to be a reliable and determined leader earning him a promotion to temporary Captain, a position that was made permanent in June 1916.
Leslie spent 1916 fighting in the trenches of France and Belgium. The first major action he faced on the Western Front was at Pozieres in July and August. With his permanent appointment as Captain only recently confirmed, Leslie successfully led his men through that terrible month with energy and determination.
His reliable leadership and cheerful attitude was recognised by his superiors who organised for him to be seconded to the 1st Anzac Corps School for further training for the first 6 months of 1917. In March, Leslie was recommended for the Military Cross for his "great keenness and devotion to duty". This was awarded to him on 5 June before he received his promotion to major on 22 June. Leslie returned to his battalion was only back with them for 3 weeks before he was once again seconded as a brigade major trainee. He returned to his unit on 23 November 1917 and remained with them most of the following year.
After a second freezing winter, the 17th Battalion was stationed at the Front when the German Spring Offensive of 1918 was launched. During the months of this offensive the battalion was situated in the Somme Valley, holding back the German attacks. Then, in the summer of 1918 the Allied armies pushed forward against the Germans, and the 17th Battalion was in the midst of these attacks at Amiens, Mont St Quentin and Montbrehain. Leslie's determination and leadership through the final year of fighting, and his steady presence in the months that followed, earned him two mentions in despatches.
He remained in Europe through 1919 working on the demobilisation of the AIF, only receiving his decommission in January 1920. Leslie returned to Australia to work for the Commonwealth Bank taking up an appointment as manager of the Canberra branch in 1921. Leslie passed away in 1960 but the memory of this strong and determined officer and his service to his country has not been forgotten with Fussell Lane in Canberra now bearing his name.
WWI Service Summary
7 May 1915, enlisted in 17th Battalion, Australian Imperial forces
12 May 1915, embarked HMAT Themistocles, Sydney
3 June 1917, awarded Military Cross
8 November 1918, mentioned in despatches
16 March 1919, mentioned in despatches
16 June 1920, decommissioned
Rank
Major
Age at enlistment
31
Role at Bank
Clerk
Please email us if you are a relative or have further information that you would like to share.