From Bank to Battlefield
Herbert Thomas Christopher Layh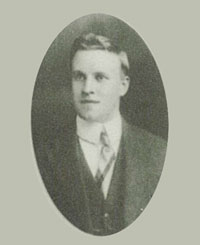 Herbert Thomas Christopher Layh was born on 3 April 1885 in Hamilton, Victoria, the son of German-born Carl Layh, an accountant, and his English wife, Jane Emma Remfry. In September 1900 at the age of 15 he was employed as a clerk with the Savings Bank in Hamilton, which was later taken over by the State Savings Bank of Victoria. Transferred to Melbourne in 1906, he completed his senior examinations at the Bankers Institute. In 1908 he married Beatrice Olive Akeroyd and had a son and a daughter. He resigned from his position with the State Savings Bank to join the newly founded Commonwealth Bank of Australia in July 1912 as a clerk in the Bank's Melbourne branch.
Layh had an active interest in military training in the civilian forces and by July 1913 had become militia adjutant of the 60th (Prince's Hill) Infantry. When war was declared, Layh was released from his position at the Bank and enlisted on 14 August 1914. Appointed as Lieutenant and assigned to the 7th Battalion under soldier, lawyer and politician HE 'Pompey' Elliott, Layh embarked for Egypt two months later and was promoted to Captain. Layh's Battalion took part in the Gallipoli landing on 25 April 1915. His boat was one of four that mistakenly beached in front of the Turkish positions at Fisherman's Hut on North Beach. He described the approach to the beach in a letter to his family, which was published in The Argus on 9 July 1915:
We could hear the firing going on, and the shells from the Turks' guns fell very close to us. As there was no tow for us, the Colonel decided that we were to row ashore in the boats. I was in the first lot of boats, and we started gaily for the shore. As we drew near we could see that the water was being churned up by the bullets, and that we were in for a hot time. The rowers pulled hard, and we entered the beaten zone at a good pace. The bullets zipped around us like bees. Before the keel grated on the beach five or six of the rowers were shot, together with many others. As a matter of fact, only 10 out of 30 left the boats, the rest being either dead or wounded. As I was climbing out of the boat a bullet hit me in the left buttock. We sprinted across the beach and took cover behind some small sand heaps, leaving some more lying on the beach.
It was reported that he served with conspicuous courage and zeal during the landing at Gallipoli. He was awarded the Distinguished Service Order for his excellent service at Lone Pine and during the evacuation, and after being transferred was also credited with being the mainstay of the new 59th Battalion owing to his knowledge and ability. Transferred again to the 57th Battalion, he commanded it in the 2nd battle of Villers-Bretonneux before being transferred to command the 60th Battalion.
In January 1919 he resumed duty with the Commonwealth Bank's Melbourne branch, where he continued to work for a further five years, eventually resigning from service on 30 June 1924. After the death of his wife in 1934, he remarried four years later to widow Olive Blanche Turner, who subsequently predeceased him. Having survived the ravages of the First World War, sadly and tragically on 10 April 1964 at the age of 79, Layh was killed after being struck by a car in Box Hill.
* An adjutant is a staff officer in charge of the organisation, administration and discipline of a battalion or regiment.
WWI Service Summary
24 August 1914, enlisted in 7th Battalion, Australian Imperial Forces
19 October 1914, embarked HMAT Hororata A20, Melbourne
1 May 1915, wounded in Gallipoli
1 January 1917, awarded Distinguished Service Order (date published in London Gazette)
11 May 1917, wounded in action (gas shell)
7 June 1918, awarded Bar to Distinguished Service Order
1 January 1919, appointed as a Companion of the Order of St Michael and St George
24 January 1919, decommissioned from Australian Army
Rank
Lieutenant Colonel
Age at enlistment
29 years
Role at Bank
Officer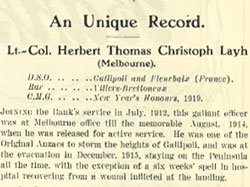 An Unique Record
Lt.-Col. Herbert Thomas Christoph Layh
(Melbourne).
D.S.O. Gallipoli and Fleurbaix (France).
Bar Villers-Brettoneux
C.M.G. New Year's Honours, 1919
Joining the Bank's service in July, 1912, this gallant officer was at Melbourne office till the memorable August, 1914, when he was released for active service. He was one of the Original Anzacs to storm the heights of Gallipoli, and was at the evacuation in December, 1913, staying on the peninsula all the time, with the exception of a six weeks' spell in hospital recovering from a wound inflicted at the landing.
In June, 1916, Lieut.-Colonel Layh left with the 5th Division for France, and the following month commanded the 59th Battalion at Fleurbaix, continuing to do so until May the following year, when he was gassed at Bullecourt.
He was next placed in charge of a Training battalion at Codford whilst recuperating in England.
In March, 1918, he was recalled to France, and given command of the 57th and 60th Battalions. In this period he took part in engagements at Villers-Brettoneux and Hamel, and various other "stunts" where Australia won imperishable fame during the terrific German "drive" towards Amieus and the subsequent big Allied advance which followed in August. It was at the first-named village that he added the Bar to the D.S.O., which was gallantly won leading his men at Fleurbaix.
Returning to Australia on furlough with the Original Anzacs in November, 1915 Bank officers learned with great pleasure that one of their most distinguished fellow-workers had been listed among those to receive New Year honours.
Source: Bank Notes magazine – February 1919, page 2
Please email us if you are a relative or have further information that you would like to share.