Sergeant Oswald Langton Carlile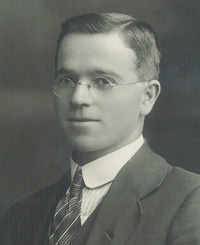 Oswald Langton Carlile was a 26-year-old clerk in the Commonwealth Bank's Melbourne office when he enlisted on 6 November 1915. Despite originally enlisting in the 2nd Division Signal Company, Carlile never saw active service. Instead, like many other members of the Commonwealth Bank staff, Carlile was transferred to the Australian Army Pay Corps and then attached to the London Office of the Commonwealth Bank.
Carlile was one of the first three men of the Australian Imperial Force to be temporarily assigned to the Commonwealth Bank's London Office in November 1916 because of the acute staff shortages suffered by the Bank's branches in the United Kingdom. Despite hiring temporary officers and over 150 women, the office was struggling to cope with the volume of work being generated by the war. The staffing problem had been exacerbated by the Military Service Act, passed by the British Government on 27 January 1916, which meant that all men who had been resident in Great Britain since 4 August 1914 and were between the age of 18 and 41 could be conscripted. The London Manager, Mr Charles Campion, managed to reach a compromise with the Army Council, ultimately authorising the Bank to take on a temporary staff of Australian soldiers. This arrangement continued into 1920 when the last of the men, Carlile included, were repatriated.
After the war, Carlile returned to work for the Commonwealth Bank in Melbourne, leaving in 1923 to join the newly established Primary Producers' Bank of Australia Ltd. Before returning to Australia, Carlile married Florence and they had one son, Forbes Carlile, who was a coach and a competitor in the 1948 and 1952 Olympics, respectively.
WWI Service Summary
6 November 1915, enlisted in 2nd Division Signal Company, Australian Imperial Forces
4 April 1916, embarked HMAT Euripides A14, Sydney
2 February 1920, discharged from service
Rank
Sergeant
Service Number
8422
Age at enlistment
26 years
Role at Bank
Clerk