Charles Ashbourne Treadgold, known as 'Treaddy', was a clerk with the Commonwealth Bank's Melbourne branch. Treadgold was the eldest son of Charles and Ellen Treadgold of Elsternwick, Victoria. At the age of 22 he lined up to enlist in the war, joining the 5th Battalion, one of the first infantry units raised for the Australian Imperial Force (AIF). Like the 6th, 7th and 8th Battalions, it was recruited from Victoria and together with these Battalions formed the 2nd Brigade.
Treadgold's battalion was among those that took part in the Anzac landing on 25 April 1915, acting as part of the second wave. The 2nd Brigade participated in the second battle of Krithia from 6–8 May 1915. This assault across open and relatively flat grassland was a failure and the enemy machine guns and artillery caused great losses in the British, French, New Zealand and Australian troops involved in the attack. Little ground was captured and the 2nd Brigade suffered 1,056 casualties in an hour, more than a third of its strength. The Brigade returned to the site of the Anzac landing to help defend the beachhead, participating in the battle of Lone Pine in August 1915.
The unit's war diary describes this experience: 'Trenches in bad state as dead men all over the place and beginning to decompose, enemy bombing all night.' Treadgold was promoted to Corporal in September 1915. Sadly, however, he died from a gunshot wound in the trenches in White Valley on 26 November, just a few weeks before the evacuation in December 1915. He left behind his widowed mother and his fiancée, Vera Kyd. Tragedy was to strike the Treadgold family a second time when his younger brother Newton was killed at the Battle of Bullecourt two years later, their mother Ellen losing both her sons in the Great War.
In 1919 staff at the Commonwealth Bank in Melbourne memorialised their dear friend and colleague Treaddy in the second edition of the staff magazine, Bank Notes: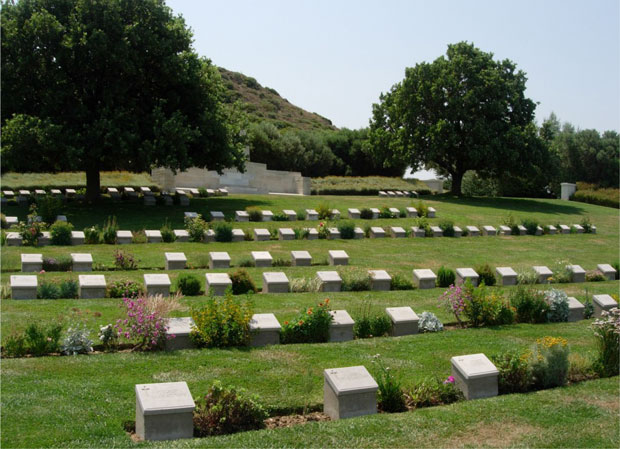 Cemetery: Cemetery: Ari Burnu Cemetery, Anzac, Turkey
Grave Reference: G. 2.
Source: Commonwealth War Graves Commission
Charles Ashbourne Treadgold's name is located at panel 45 in the Commemorative Area at the Australian War Memorial (as indicated by the poppy on the plan).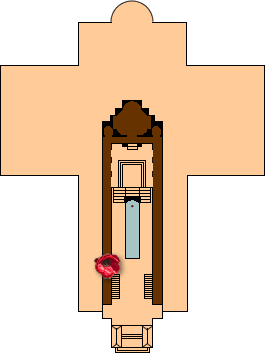 Source: Australian War Memorial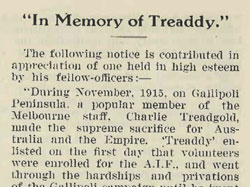 In Memory of Treaddy
The following notice is contributed in appreciation of one held in high esteem by his fellow-officers:
"During November, 1915, on Gallipoli Peninsula, a popular member of the Melbourne staff, Charlie Treadgold, made the supreme sacrifice for Australia and the Empire. 'Treaddy' enlisted on the first day that volunteers were enrolled for the A.I.F., and went through the hardships and privations of the Gallipoli campaign until he 'went west' a few weeks before the evacuation. He was an interesting and attractive personality – gay and happy, frank and engaging, vigorous and energetic, he was at once a favourite with all. As an old Wesley Collegian (Melbourne), he upheld the traditions of the school on the athletic side, with which the sportsmanlike attributes of fairness, generosity and comradeship went hand in hand in his case. His death was greatly mourned by those who knew him, and he certainly was of the type that Australia could ill afford to lose."
Source: Bank Notes magazine – January 1919, page 6