From Bank to Battlefield
Arthur Henry Cobby CBE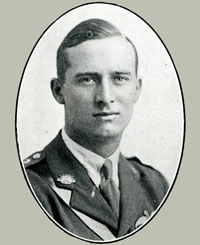 Arthur Henry Cobby, who went by the name of Harry, was a highly decorated Australian fighter pilot, who was born at Prahan in Victoria on 26 August 1894. He was the son of Arthur Cobby snr and Alice Cobby (nee Nash) and was one of four brothers.
Harry Cobby was employed as a bank clerk at the Melbourne office of the Commonwealth Bank of Australia when war was declared in 1914. Two years earlier, at just 18, he had gained a commission in the Army with the 47th Infantry, but had not yet embarked on a full military career.
In 1916, at the age of 22, he joined the Australian Imperial Force (AIF) and, despite having little prior knowledge or experience of flying, was posted to the Central Flying School, Australian Flying Corps (AFC) at Point Cook, Victoria. Cobby completed his initial training there in December 1916 and graduated as a 2nd Lieutenant, No.4 Squadron.
In January 1917 he departed Australia with his Squadron, arriving in Plymouth, England, in March that same year. Nine months later, after further training, he was flying fighter planes, including the famous Sopwith Camel, over the battlefields of France. His courage and abilities were soon noted and it was not long before he was regarded as one of the most capable and daring of the Australian airmen.  Cobby was credited with the downing of 29 aircraft and 13 balloons; the highest number attributed to any Australian during the First World War. His exploits earned him the Distinguished Flying Cross, later with two bars, the Distinguished Service Order and mention in dispatches. The citations accompanying these awards praised his gallantry, courage, brilliant flying ability, clear judgment, presence of mind, determination, skill and success as a leader.
Cobby's exploits were widely reported back home in Australia. At the Commonwealth Bank, reports of his courage and flying prowess were greeted with immense pride. Cobby, in writing to the Bank's staff magazine Bank Notes towards the end of the war, was more philosophical about his successes. He was, he wrote, 'more to be congratulated on being alive than doing anything special, as the whole AFC strive after good results, and of course some go west, and those that live reap the benefits of the whole'.
Harry Cobby returned to Australia in May 1919 as a household name. He became the representative of the AFC and a portrait of him, by William McInnes, was commissioned for the Australian War Museum. The Commonwealth Bank, in recognition of his distinguished war service, sent letters of welcome to him from each of its state branches. The Bank noted that his great successes were not unexpected 'for we were all well aware that his temperament and courage eminently fitted him for distinction as a daring and successful aviator'.
In 1921 Cobby joined the Australian Air Force as a full-time flying officer, before eventually rising to the rank of Wing Commander. He fought with the Royal Australian Air Force (RAAF) during the Second World War, and was awarded the George Medal and appointed Commander of the Order of the British Empire. After the war he held several distinguished posts, including with the Department of Civil Aviation.
In 1920 Harry Cobby had married Hilda Maude Urban. The couple had one son and one daughter. He died in Melbourne in November 1955, still a national hero, and was accorded full military honours at his funeral.
WWI Service Summary
23 December 1916, enlisted in 4th Squadron, Australian Flying Corps, Australian Imperial Forces
17 January 1917, embarked HMAT Omrah, Melbourne
14 May 1918, awarded Distinguished Flying Cross
3 August 1918, awarded bar to Distinguished Flying Cross
21 September 1918, awarded bar to Distinguished Flying Cross
8 November 1918, awarded Distinguished Service Order
24 July 1919, decommissioned from service
Rank
Captain
Age at enlistment
22 years
Role at Bank
Clerk
Member of Staff Honoured
Captain Cobby, D.S.O., D.F.C., of Melbourne staff, has been requested by the Australian War Museum authorities to sit for his portrait, which is desired for the National Collections to be housed in the Australian Museum.
It is very gratifying to learn that this distinguished officer has been selected as the representative of the Australian Flying Corps, and the portrait section of the Museum will, in consequence, have more than ordinary interest for members of the staff of this Bank.
COBBY OF THE FLYING CORPS.
Great Airman Honored.

CAPTAIN A. H. Cobby, D.F.C., D.S.O., who is attached to Melbourne Staff, has earned great distinction, of which his felow[sic]-officers are reasonably proud. For distinguished services he has been awarded the Distinguished Flying Cross (a new decoration for airmen) with two bars, and word recently came through that the D.S.O. has also been bestowed on him. He enjoys the distinction of having brought down considerably more Hun planes than any other pilot of the A.F.C., so we shall not be surprised to learn of any new honour having been given him. To have led an enormous squadron of British and American airmen in an attack on the German aerodromes at Haubourdin is no mean achievement. In eleven days he bagged five enemy "birds". One evening he, with another machine, attacked five enemy planes, downing three of them. He had accounted for twenty-one machines and balloons when we last heard. His great successes are not unexpected, for we were all well aware that his temperament and courage eminently fitted him for distinction as a daring and successful aviator.
News of Our Boys.
Melbourne correspondent writes: It is expected that Captain Cobby, of Melbourne staff, will disembark in Melbourne within the next few weeks. Captain Cobby has had a distinguished meritorious record for flying services at the front, in fact, he is now regarded as Australia's "ace" and leading aviator.
It is thought by Melbourne Office that some suitable recognition of his wonderful service to the Empire should be made by the Bank as a whole, and we would suggest that each capital branch forward a letter of welcome to him care of Melbourne Office and Melbourne will do the rest.
Mr. Jas. White writes a long interesting letter to Mr. H. T. Armitage from Moascar under date 4th April, mentioning amongst other things the native uprisings have assumed such proportions as to retard demobilisation of our Palestine Army somewhat.
Gunner V. H. Woodward (Perth), writing from Belgium, under date 15th March, expresses good wishes to all old friends, and his gratitude at receipt of his Christmas bonus.
R.Q.M. Sergeant G. L. Bingham, of Perth also, writing from London, expresses his thanks for receipt of the bonus, and the earnest hope that he will be with us before the end of the year.
Perth branch is pleased to have back again Private E. J. Bray, who after nearly three months' convalescence from his severe attack of Spanish influenza, has now quite recovered.
Mr. G. H. Ford, who left Perth Staff in May, 1915, to join the A.I.F., has now returned. He left Western Australia in June, 1915, with the 28th Battalion, went through the Gallipoli campaign; was at London Office, and with the 8th Battery in the big push, finishing up at Brussels. He has now returned after his four years' service, and rejoined the staff.
News comes through of Driver A. Stewart, the genial Head Office man with the infectious grin, who used to handle infuriated crowds at the cable counter, with so much tact and good humour, in the "off" seasons, when cables were slower than mail boats. When last seen by Mr. B. C. Cannon, of our Tidsworth Branch, he was a burly driver in the overworked A.S.C., all unshaven and unshorn. In fact, when first sighted, there were unworthy suspicions of bushrangers, Bolsheviks, etc., but a closer acquaintance revealed the old Alex., of the comfortable embonpoint! Source: Bank Notes magazine – June 1919
Please email us if you are a relative or have further information that you would like to share.